THE PRISON SYSTEM CONTROLS MANIFOLD ASPECTS OF THE BODY:
 ITS GEOGRAPHIC LOCATION, ITS MOVEMENT AND SELF-EXPRESSION.
ITS CONNECTION WITH OTHERS AND THE COMMUNION OF SHARED EXPERIENCE.
THE FULFILLMENT OF BASIC HUMAN NEEDS: ACCESS TO FOOD, FRESH AIR, BODILY FUNCTIONS, AND PHYSICAL TOUCH.
IN A SPACE SUCH AS THIS ONE, THAT SURVEILS AND CONTROLS IN NEAR-TOTALITY, TATTOOING TAKES ON POTENT MEANINGS.  IT BECOMES A WAY TO ASSERT OWNERSHIP OVER ONESELF- A FORM OF EXPRESSION THAT THE STATE MAY PUNISH, BUT CANNOT TAKE AWAY.
THE NARRATORS IN THIS ORAL HISTORY PROJECT ALL POSSESS THEIR OWN EXPERIENCE OF TATTOOING AND THE PRISON SYSTEM.  SOME LEARNED TO TATTOO INSIDE, SOME TATTOOED THEMSELVES.  SOME DESCRIBE POLICE PROFILING OF THEIR TATTOOS, OTHERS LIVED LIVES AS TATTOO ARTISTS ONLY WHILE INCARCERATED, FACING INDUSTRY DISCRIMINATION IN THE FREE WORLD UPON THEIR RELEASE.  EACH SPEAKS TO THE MEANINGS THEY MADE OF TATTOOING.
Oral history provides us with a chance to bear witness. The oral histories in this project include descriptions of interpersonal and state violence, including childhood abuse, murder, and transphobia, as well as drug use and overdose.  Please take care when listening.  The audio pieces range from 10-30 minutes each. I invite you to engage in a slow, intentional hearing, bearing in mind that while we have grown used to short, easily digestible media in the free world, prison time functions much differently.
Chance is a tattooer, screen printer and prison abolitionist based in Oakland, California. You can find Chance on Instagram: @Last_Chance_Tattoos
Andres Norwood is an Afro-Latino photographer and artist from Los Angeles, California who is currently based in New York City. His art centers around the promotion of diverse cultures, perspectives, and self-expression to portray an intentional message into the world about the people who live within it. His vision focuses on creating radiant and professional photographs along with diversifying the industry and creating more opportunities for BIPOC people.
Bernie Lieving is a public health social worker currently working as a consultant and Statewide Overdose Prevention Education Coordinator on New Mexico's various federal grants within the Behavioral Health Services Division, Office of Substance Abuse Prevention. His areas of professional expertise include health and social services program development, grant writing, legislative advocacy, social work education, harm reduction, overdose prevention and response education, prisoner reentry, community-based capacity building, and the provision of direct services to marginalized populations. Bernie is the principal of The Lieving Group, LLC.
Carlos Truan is 47 years old. He started tattooing in 1998. He lives in Austin, Texas with his partner and two children, and owns a tattoo shop on the East side called Communion with three other people, typically having 1 to 2 guests per month. Carlos says, "the area the shop is located is really cute with the best coffee shops and the best vegan food."  He is an advocate for recovery from drug and alcohol abuse.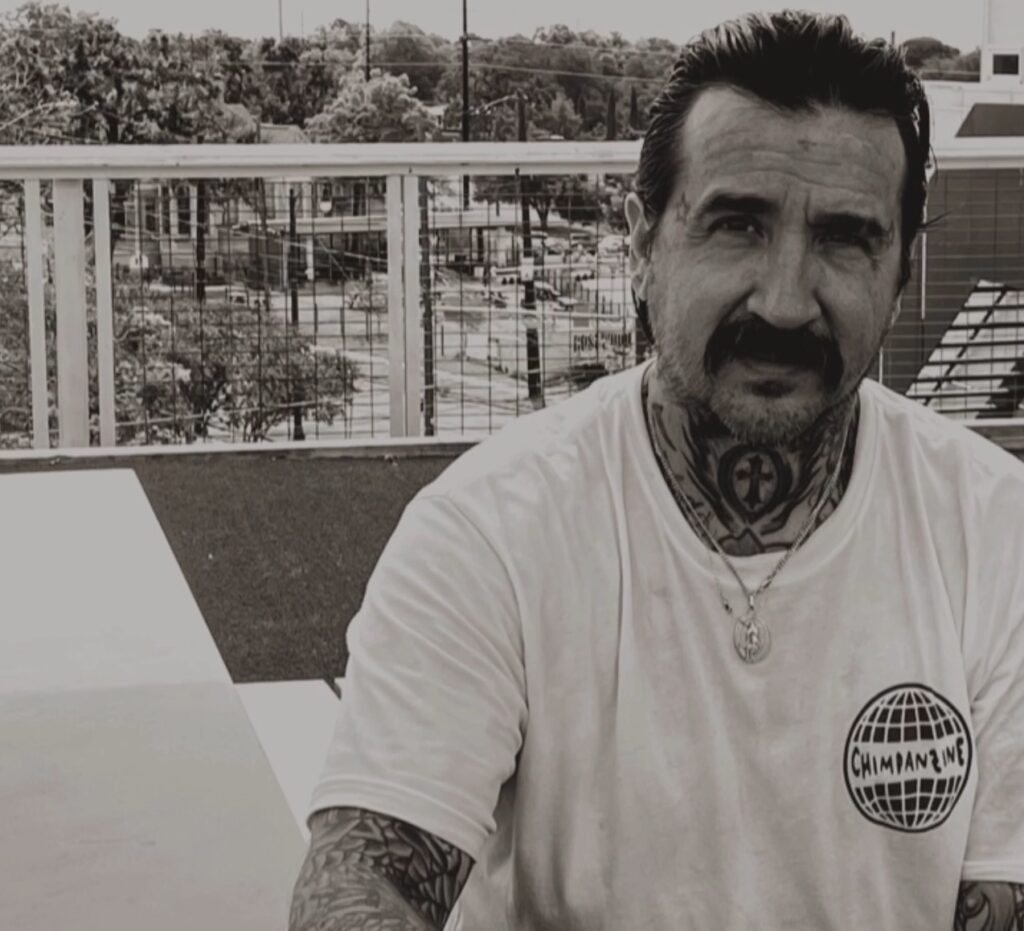 Faith Phillips is a tattoo artist and founder of Chicago's first Black trans woman owned tattoo shop, Wish Me Luck. Her work can be found via Instagram @americanflesh.